Easy manual timing of sports races
RaceClocker is a do-it-yourself tool for manual timing of sports races. It offers an easy and fast alternative to chip timing or stopwatches. If you're a coach or race manager and you can't use transponders then RaceClocker is an excellent solution for high quality timing of your race.
Made for race managers and coaches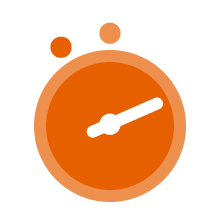 Live RaceClock
Synching RaceClock...
The time you see ticking here is our "RaceClock". It runs with the accuracy of the internal clock of your computer, tablet or smartphone and is synched with our race time server. This results in accurate manual timing of races where start and finish are at different locations. Timing precision is not depending on the speed of your internet connection.
Race results
Beast of Bottle Hill
13.3 km Cycling Time Trial
DDS Trial (1km splits)
4 km Rowing
Solar Eclipse of the Sandhills Run
5 km Running
Get started with RaceClocker
You can try RaceClocker for yourself. Sign up and use the service free of charge. The free version is fully functional for up to 10 participants per race.
If you want to use RaceClocker without any restrictions, you can upgrade later to RaceClocker Unlimited for 39.90 Euro (or about $46) per year.
RaceClocker's Key Features
Import Start List
Upload your race list including categories, Bib numbers, participant's name and club via Excel CSV file. A Sample file to help you get going is included.
Time Anywhere
Timing the start, finish and split points can be done with any internet connected phone, tablet or laptop. Timing is set up and under control by the race manager from the RaceClock Dashboard.
Correct Mistakes
Humans make mistakes. Options are included to recover manual timing errors. Timer buttons can be 'undone' and backup results can be reviewed and reassigned after your race. Manual backup times can be entered in case of a complete miss.
Time Trial or Mass Start
RaceClocker is optimized for timing indivudual time trial races with or without split points where participants start one after another. Mass start races are also supported.
Live Results
Results can be published in real time so the crowd can follow along, either online or at the club house. Long lists scroll automatically for public display at your venue.
Publish and Archive
All timing registrations as well as final results can be downloaded as Excel file for your archive or in case you need the source timing available in another application.